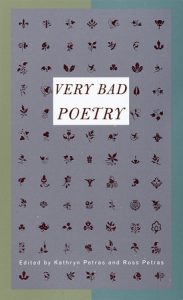 Writing very bad poetry requires talent. It helps to have a wooden ear for words, a penchant for sinking into a mire of sentimentality, and an enviable confidence that allows one to write despite absolutely appalling incompetence.
The 131 poems collected in anthology are so glaringly awful that they embody a kind of genius. From Fred Emerson Brooks' "The Stuttering Lover" to Matthew Green's "The Spleen" to Georgia Bailey Parrington's misguided "An Elegy to a Dissected Puppy", they mangle meter, run rampant over rhyme, and bludgeon us into insensibility with their grandiosity, anticlimax, and malapropism.
Guaranteed to move even the most stoic reader to tears (of laughter), Very Bad Poetry is sure to become a favorite of the poetically inclined (and disinclined).
links to buy: Amazon – Barnes & Noble – BooksAMillion – Indiebound – iTunes
Reviews:
"… [an]exceedingly amusing little book …. every page of which makes its title seem, if anything, wicked understatement. "
— the Washington Post
"For poems that will make you cringe in horror–and laugh until you cry–you need the new paperback "Very Bad Poetry," a collection edited by the brother-sister team of Kathryn and Ross Petras. Only here will you find such gems as "Ode on the Mammoth Cheese," by James McIntyre (1827-1907), which begins with this stirring stanza: 'We have seen thee, queen of cheese,/ Lying quietly at your ease,/ Gently fanned by evening breeze,/ Thy fair form no flies dare seize.'"
— the Chicago Tribune