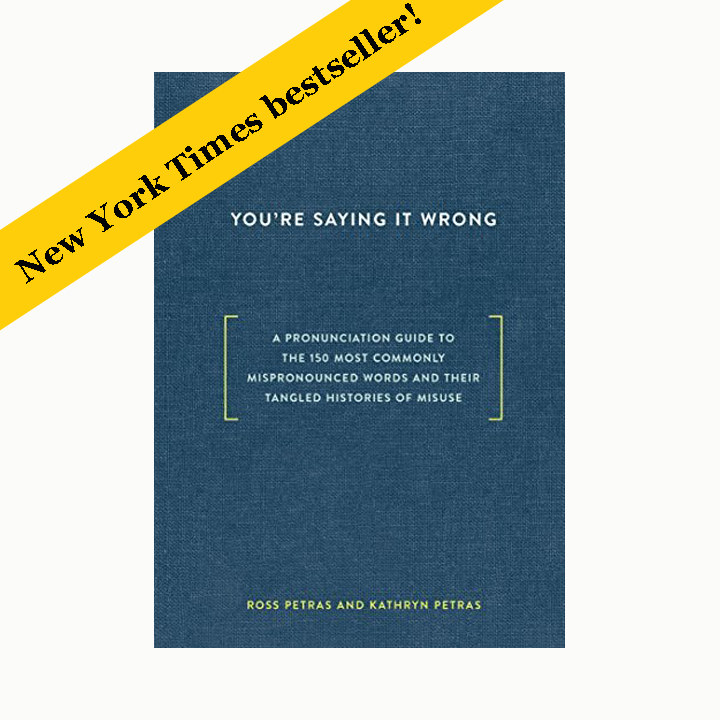 You're Saying It Wrong: A Pronunciation Guide to the 150 Most Commonly Mispronounced Words–and Their Tangled Histories of Misuse
For word nerds and grammar geeks, a witty guide to the most commonly mispronounced words, along with their correct pronunciations and pithy forays into their fascinating etymologies and histories of use and misuse.
With wit and good humor, this handy little book not only saves us from sticky linguistic situations but also provides fascinating cocktail-party-ready anecdotes. Entries reveal how to pronounce boatswain like an old salt on the deck of a ship, trompe l'oeil like a bona fide art expert, and haricot vert like a foodie, while arming us with the knowledge of why certain words are correctly pronounced the "slangy" way (they came about before dictionaries), what stalks of grain have to do with pronunciation, and more. With bonus sidebars like "How to Sound like a Seasoned Traveler" and "How to Sound Cultured," readers will be able to speak about foreign foods and places, fashion, philosophy, and literature with authority.
Penguin-Random House | Amazon | Barnes & Noble | BooksAMillion | Indiebound | iTunes
A few reviews:
". . . the latest book from Ross and Kathryn Petras, a brother-and-sister writing team. . . .[contains] instructions ostensibly designed to make pronunciation a forte. (It's pronounced "fort," by the way.) And designed, too, to spare you the particular strain of embarrassment that results when you learn that you have been pretentiously mispronouncing the name of your already-pretentious sparkling water. You're Saying It Wrong acknowledges that most modern of problems: the fact that so many of us learn words not by hearing them, but by reading them."
—The Atlantic
". . . the small tome packs 150 of the most irritating words American-English speakers fail to get right. From gourmet terms borrowed from French to colloquialisms born in the United States to the names of characters endemic to H. P. Lovecraft's fictional universes (admit it, you've always wanted to know how to pronounce Cthulhu), they help readers master both the perplexing and perplexingly simple expressions that make ordering braised endive anxiety-inducing."
—Huffington Post
". . . The best way to consume this book is in a room full of people who are from different parts of the country and have good senses of humor. Ask them how they pronounce each word that doesn't seem obvious. Let the frustration and laughter and discussion ensue."
—The Awl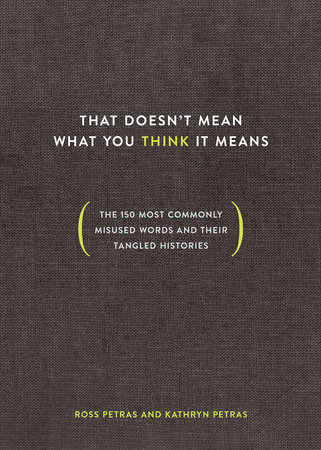 That Doesn't Mean What You Think It Means: The 150 Most Commonly Misused Words and Their Tangled Histories
An entertaining and informative guide to the most common 150 words even smart people use incorrectly, along with pithy forays into their fascinating etymologies and tangled histories of use and misuse.
Even the most erudite among us use words like apocryphal, facetious, ironic, meteorite, moot, redundant, and unique incorrectly every day. Don't be one of them. Using examples of misuse from leading newspapers, prominent public figures and famous writers among others, language gurus Ross Petras and Kathryn Petras explain how to avoid these perilous pitfalls in the English language. Each entry also includes short histories of how and why these mistake have happened, some of the (often surprisingly nasty) debates about which uses are (and are not) mistakes, and finally, how to use these words correctly … or why to not use them at all.  By the end of this book, every literati will be able to confidently, casually, and correctly toss in an "a priori" or a "limns" without hesitation.
Penguin-Random House | Amazon | Barnes & Noble | BooksAMillion| Indiebound |iTunes