Grammar Rules You Still Have to Follow on Social Media — Reader's Digest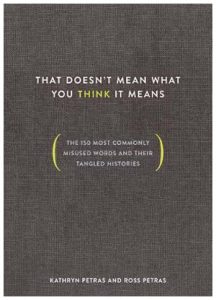 Affect vs. effect: Those and other words commonly misused by people — AirTalk, NPR affiliate KPCC-Los Angeles
Illusion or allusion? Let these word nerds help save you from these common language mistakes — CBC  Radio
Why your Latin teacher was wrong — The Economist
9 Words and Phrases You're Probably Using Wrong  — Harvard Business Review
You're Saying It Wrong — Says You!
Kathryn and Ross Petras talk about commonly misused words — Leonard Lopate At Large
Craft Book Spotlight: That Doesn't Mean What You Think It Means — The Writer
What Is It You're Trying To Say? — Arkansas Journal-Gazette
Words That Don't Mean What You Think They Mean — CBC Maritime Noon
A Few Derivative Thoughts About the Word "Unique" — the Stranger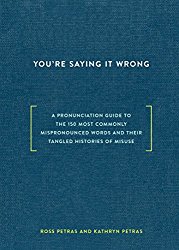 From Asterisk To Zoology, Common Mispronunciations That Trip Us Up  (radio segment) — NPR's Here and Now
How to Pronounce Everything — the Atlantic
7 Words You Might Be Saying Wrong — Oprah.com
The 150 Most Commonly Mispronounced Words, Explained — Huffington Post
Let's all get angry about the word gif again — you've been pronouncing these words all wrong — New York Daily News
Think you know how to pronounce bruschetta and GIF? Chances are you're saying it wrong —CBC radio
Newsflash: You're pronouncing Moët wrong — New York Post
11 Food Names You're Probably Saying Wrong (You're not even close on vichyssoise.) — Town and Country
New book aims to settle debate on misused and mispronounced words — CBC News
"You're Saying It Wrong:" A beginners guide to practical pronunciation (radio segment) — CBC radio
6 Mispronounced Words and Phrases That Make You Look Dumb — Inc.
Dr. Seuss, We're Pronouncing It All Wrong — Huffington Post Canada
Krysten Ritter: By the Book — the New York Times Book Review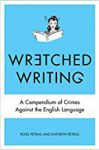 Schadenfreude Alert! Inside a Collection of Wretched Writing — Time
Pathetic Sex Scenes Written By Politicians And Pundits — Huffington Post
Arise, Ye Wretched! — the American Spectator
It's All Their: PW Talks Grammar and Ineloquence with Ross and Kathryn Petras — Publishers Weekly
Obama, Biden and Snooki: Poets at heart — the Washington Post
Poems by Kanye West, Snooki and … Rex Ryan? — the Newark Star-Ledger
Robert Pattinson, Kanye West, Snooki all part of a new modern poetry book — Hypable
'Timeless' poems from Snooki, Kanye — Newsday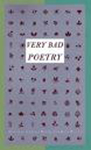 A Loaf of Bread, a Ton of Cheese and Thou — the New York Times
Bad Poets Who Didn't Know It — the Washington Post
Poetry So Bad It's Good — Huffington Post
My Goodness, There Has Been Some Awful Poetry — the Chicago Tribune